Coworking
The Business Lounge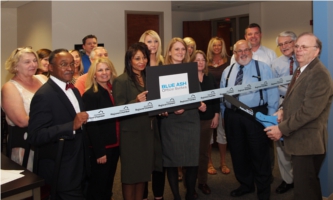 BLUE ASH Office Suites has opened The Business Lounge. The ribbon cutting and opening celebration was on April 20th. Present was the Cincinnati Chamber of Commerce, many of our customers & employees, and interested members of the community. See our Press Release.

The Business Lounge brings the "coworking" concept to Blue Ash for those who find working from home does not fill their need to maintain business networking contacts, or the opportunities for collaboration with colleagues.
Coworking is redefining the way we do work. The idea is simple: that independent professionals and those with workplace flexibility work better together than they do alone. Coworking answers the question that so many face when working from home: "Why isn't this as fun as I thought it would be?"
Beyond just creating better places to work, coworking spaces are built around the idea of community-building and sustainability. Coworking spaces agree to uphold the values set forth by those who developed the concept in the first place: collaboration, community, sustainability, openness, and accessibility.

1
For a very reasonable rate, you will be able to take advantage of our Business Lounge and find out how much more productive you can be.